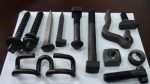 Business Summary
Anyang General International Co., Ltd (AGICO) specialized in manufacturing and supplying railway products, including railway fishplates, railway fastening system, and related fastening parts for railroad construction. And with a history in resilient railroad fastener manufacturing, since 1958, AGICO has developed itself to a state-level and most competitive rail part supplier in China, especially with biggest DAILY rail clip and rail joint production capacity: 100,000pieces of rail clip and 100MTS of rail joints.
Description of Products / Services
3 service systems for facility supply, transport and warehouse management, combined with 5 functional sectors including Quality Inspection Dept., Production & Technology Dept., Operation Dept., Financing Dept., and Administrative Office form a professional and orderly company structure. Besides, we also set up a mould processing center under the R&D Department and a product showroom to enable honorable guests to touch our products closely.
Send Message to listing owner