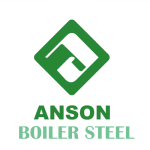 Business Summary
ANSON now is one largest and famous Boiler Steel Trading and Exporting Company in the world, as tier one agency of most main steel mills in China, steel price is always offered at a reasonable and competitive level, we are always looking forward to keep long business relationship to customers, over the last decades, we have exported to many countries and regions: United States, Brazil, Chile, Egypt, Nigeria, India, Iraq, Kuwait, Saudi Arabia, Middle East, Mexico, Oman, South Africa, South America, Qatar, Russia, Turkey, UAE, Venezuela, & around the globe.
Description of Products / Services
ANSON Steel is a professional steel trading company that founded in Henan Anyang, located in the center of China, our product covers almost all industries, among the steel types: Boiler Steel, Pressure Vessel Steel is one main value added steel product. From the very beginning ANSON STEEL has delivered numerous tons of steel plate and steel tube products for hundreds of projects like Steel Boiler, Gas Cylinders, Heat Exchangers, Steam Generators, some product are produced strictly according to steel grade specifications, others according to technical requirements from customers.
Send Message to listing owner