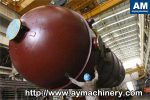 Business Summary
China National Building Material International Equipment Co., Ltd. (hereinafter referred to as "CNBM") is an international engineering system integration service provider mainly focusing on cement engineering, electromechanical housing engineering, and light machinery engineering, and also international trade, bidding, and other related businesses as its expansion.

Anyang Machinery Co., LTD. as a member company of CNBM, which is a member of the world's top 500 companies. CNBM pulp & paper relies on the strong resource advantages of various professional research and design institutes, equipment manufacturing bases, product testing centers, and related industrial technology service companies under the CNBM Group to develop paper pulper machine manufacturing.
Description of Products / Services
CNBM's leading products include large chemical vessel, reaction kettle, heat exchange, a complete set of pulp production line, batch cooking equipment, paper pulp machines for a large chemical pulp production line including pulp digester, blow tank, twin roll press, vacuum drum washer, and etc. APMP poplar CMP equipment, multi-disc vacuum filter. Meanwhile, CNBM is also working hard in the design, manufacture and installation of the pressure vessel and machinery equipment referring to the industries of metallurgy, building materials, power and environmental protection, etc.
Send Message to listing owner