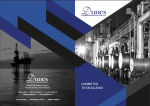 Business Summary
Dunes Specialized Oilfield Equipment Trading LLC serves the Offshore/Onshore Oil and Gas, Marine, Shipbuilding
and repair, Petrochemical, Power generation and general industries in the Middle-East region.
We provide procurement outsourcing that covers the entire spectrum of MRO Spares, Plant materials , Equipments
and project supplies for Oilfield & Industrial sectors.
Description of Products / Services
MRO SPARES - Backed by world class principals and partnerships like
Nakakita Seisakusho, DMW corporation etc to name a few, procurement
and sourcing of critical spare parts for industrial equipments are managed on
a global basis directly from manufacturers and also from third party suppliers.
We offer equipment spares for process industries, with particular emphasis
on oil, gas (Production, Processing and Refining) and Petrochemical sector
from reputed manufacturers in Japan, Europe and America.
PROCUREMENT SERVICES - With extensive technical product knowledge
and global sourcing capabilities, Dunes is a reliable source of quality
products from reputed manufacturers, distributors and suppliers around the
globe. Our extended services involves the entire spectrum of procurement
activities, thus allowing our customers to focus on their core areas of
expertise and take their operations to the next level.
PROJECTS SUPPLIES – We specialize in expedited procurement of project
related equipments for oil & gas turnkey projects starting from EPC,
maintenance and expansion projects. With procurement and sourcing
managed on a global basis, we improve the time required for supplies to
reach project sites giving you the edge in today's exceedingly competitive
oilfield marketplace.
Send Message to listing owner