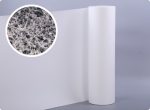 Business Summary
HUZHOU SENNUO FLUORINE MATERIAL TECHNOLOGY CO., LTD. is located in wuxing science and technology industrial park, a national incubator base in the north of zhejiang province.
Description of Products / Services
ePTFE waterproof and moisture permeable membrane is made of PTFE resin. It is specially processed, biaxially stretched, and uses unique technology to form ePTFE into a microporous film with a diameter of 100-500nm.It has more than 1 billion holes per square centimeter. The pores are 700 times larger than the water vapor molecules and 10,000 times smaller than the water molecules, allowing the membrane to allow both air and water vapor to pass through the membrane freely while rejecting the water. After many years of exploration and continuous improvement, special treatment on the membrane can improve the service life and wear resistance of the membrane. It Can be combined with any fabric. Clothing can add various functions to make the human body more comfortable, and is known as "breathable fabric".
Send Message to listing owner