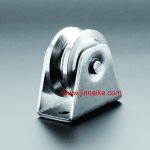 Business Summary
We produce a wide range of hardware products including sliding gate wheels, sliding gate tracks, steel Wheel for gate, cantilever gate wheels, cantilever gate tracks, guide wheels, end stops,end caps, hanging door rollers, hanging door roller rails, sliding and folding door carriages, nylon rollers, nylon roller brackets, gate stoppers, gate hinges, gate latches, gear racks, post caps, gate handles, roller shutter door spring boxes and welded connection straps etc.
Description of Products / Services
Jiaxing Jinnaike Hardware Products Co., Ltd is a leading China Products manufacturers and Products suppliers,our company has become the leading producer of this industry in China.We are backed by powerful technology and production,technical team, welltrained production staffs, aggressive management and sales team who has shown dedicated performance standards and made us experienced supplier to the international frontiers.To maximize market opportunity and meet the customers' demands, we continually expand the Products with more specifications and varieties.
Sliding Gate Roller With Double Plates,Sliding Gate Roller With Interior Bracket,Sliding Gate Roller with Bolt,Sliding Gate Roller with Double Bearings,Heavy Duty Sliding Gate Roller with Exterior Bracket.
Send Message to listing owner