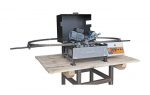 Business Summary
MYHG Steam heating wood drying kiln uses the recycle steam as the heat source that keeps on decomposing, evaporating water content rateand lipid of the materials or the inner part of the products that need drying treatment so that the target of cleaning, drying and figuration can be achieved.
Description of Products / Services
Sino-foreign joint venture Hangzhou Lin'an NanYang Wood-working Machinery Co., Ltd. was established in 1956, and made a joint venture with PT·SINAR·HIMALAYA Co. Indonesia in 1992. It specially produces equipment of wood processing and wood drying equipment. It has so far provided more than 40,000 wood processing equipments and more than 6,000 wood drying equipments to more than 40 countries.
The Company is a member unit of National Wood-working Machinery Association, an export basis of Chinese mechanical and electrical products, civilized unit of Hangzhou city, and the Contract and Accredit Honoring Unit of Hangzhou city. The Company has rich economic power and exquisite technical ability and owns a lot of specialized senior engineering and technical talents in wood processing equipment and wood drying equipment design and development. The products of the Company have owned 5 national patents and obtained many technological awards at provincial level or higher level. Company's products through the ISO9001 certification and CE certification of the European Union.
The Company, with rich experience of wood processing equipment production in scores of years and in combination with advanced foreign technology, has devoted itself to the research and development of intelligent wood sawing equipment. The coming out of large log horizontal band sawing machine and square horizontal band sawing machine meet the urgent demand of "automation, precision, high percentage of cut-turn and performance of safety" for wood processing by wood processing enterprises of modern furniture, flooring and building materials. As experts of intelligent wood processing equipment, they represent the trend of internal high-end wood sawing equipment.
Send Message to listing owner