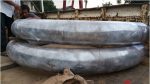 Business Summary
Manufacturer of Stainless Steel, Duplex Steel, Super Duplex Steel, Monel, Inconel, Hastelloy, Titanium, Alloy-20, Carbon Steel, Alloy Steel
Description of Products / Services
WNRF FLANGES, BLIND RF FLANGES, ALLOY 20 FLANGES, MONEL FLANGES, INCONEL FLANGES, HASTELLOY FLANGES, TITANIUM FLANGES, HASTELLOY® XMONEL® R-405MONEL® K-500HASTELLOY® C-276HASTELLOY® C-22HASTELLOY® B-2INCOLOY® 825INCOLOY® 800H / 800HT®INCONEL® 718INCONEL® ALLOY 625INCONEL® ALLOY 601INCONEL® ALLOY 600MONEL® ALLOY 400ALLOY 20NICKEL 200/201MONEL® R-405MONEL® K-500MONEL® ALLOY 400INCONEL® 718INCONEL® ALLOY 625INCONEL® ALLOY 601INCONEL® ALLOY 600INCOLOY® 825HASTELLOY® XHASTELLOY® C-276HASTELLOY® C-22HASTELLOY® B-2INCOLOY® 800H / 800HT®HASTELLOY® B-3, ZERON® 100, SUPER DUPLEX STAINLESS STEELSuper Duplex S32760LDX 2101®, DUPLEX STEELDuplex S31803SUPER DUPLEX 2507DUPLEX 2205,
ASME SB366/ASTM B366 Standard Specification for Factory-Made Wrought Nickel and Nickel Alloy Fittings
Material Grade UNS N02200 /WPN/CRN UNS N02201 /WPNL/CRNL UNS N04400 /WPNC/CRNC UNS N06002 /WPHX/CR HX UNS N06007 /WPHG/CR HG
UNS N06022 /WPHC22/CR HC22 UNS N06025 /WPV602/CRV602 UNS N06030 /WPHG30/CR HG30 UNS N06045 /WPV45TM/CRV45TM UNS N06059 /WP5923/CR5923
UNS N06200 /WHC2000/CR HC2000 UNS N06230 /WPH230/CRH230 UNS N06455 /WPHC4/CR HC 4 UNS N06600 /WPNCI/CRNCI UNS N06603 /WP603GT/CR603GT
UNS N06625 /WPNCMC/CRNCMC UNS N06985 /WPHG3/CR HG3 UNS N08020 /WP20CB/CR20CB UNS N08904 /WP904L/CR904L UNS N08031 /WP3127/CR3127
UNS N08120 /WPH120/CRH120 UNS N08330 /WP330/CR330 UNS N08367 /WP6XN/CR6XN UNS N08800 /WPNIC/CRNIC UNS N08810 /WPNIC10/CRNIC10
UNS N08811 /WPNIC11/CRNIC11 UNS N08825 /WPNICMC/CRNICMC UNS N08925 /WP1925/CR1925 UNS N08926 /WP1925N/CR1925N UNS N10001 /WPHB/CR HB
UNS N10003 /WPHN/CR HN UNS N10276 /WPHC276/CR HC 276 UNS N10629 /WPVB4/CRVB4 UNS N10665 /WPHB-2/CR HB2 UNS N10675 /WPHB-3/CR HB3
UNS N12160 /WPH160/CRH160 UNS R20033 /WP3033/CR3033 UNS R30556 /WPH556/CRH556    
Product Form
ASME B16.9 Size:1/2"-48" Wall thickness:SCH5S-SCHXXS
ASME B16.28 Size:1/2"-24" Wall thickness:SCH5S-SCHXXS
MSS SP43 Size:1/2"-24" Wall thickness:SCH5S-SCHXXS
MSS SP75 Size:16"-60" Wall thickness:SCH5S-SCHXXS
ASTM A182
/ASME SA182 Standard Specification for Forged or Rolled Alloy-Steel Pipe Flanges, Forged Fittings, and Valves and Parts for High-Temperature Service
Low alloy Steels F1 F2 F5, F5a F5 F91
F92 F911 F11, F12 F36
F21, F3V, F3VCb F22, 1/3/V F23 F24 FR
F122 F10 F9
Martensitic and
Ferritic Stainless steel F6a F6b F6NM F XM-27Cb F429
F430
Austenitic Stainless steel F304 F304H F304L F304N F304LN
F309H F310 F310H F310MoLN F316
F316H F316L F316N F316LN F316Ti
F317 S31727 S32503 F321 F321H
F347 F347H F347LN F348 F348H
FXM-11 FXM-19 F20 F44 F45
F46 F47 F48 F49 F56
F58 F62 F63 F64 F904L
Ferritic-Austenitic Stainless steel F 50 F 51 F 52 F 53 F 54
F 55 F 56 F 57 F 58 F 59
F60 F61 F65 F65 F67
Product Form
Flanges(ASME B16.47,B16.48
,B16.5,MSS SP44,BS10,BS3293
,BS4504,ISO7005-1) WN(welding-neck);SO(slip-on);PL(Plate);BL(Blind);Th(Threaded);SW(scket-welding);LF/SE(lapped flange/stub end);LWN(long welding neck);Orifice flange;Reducing flange;
API flange;Integral/Compact flange;Spectacle blind,Lind spade and spacer,Paddle blind,Paddle spacer;
Orifice plate;Pipe plate,Bleed ring,Overlap Flange.
ASME B16.11 Forged threaded fittings:90-deg elbow,45-deg elbow,tee,cross,coupling,half-coupling,cap,square head plug,hex head plug,round head plug,hex head bushing,flush bushing,street elbows
ASME B16.11 Fogred socket weld fittings:90-deg elbow,45-deg elbow,tee,cross,coupling,half-coupling,cap
MSS SP83 Steel Pipe Unions(socket welding and threaded end)
MSS SP95 swage nipples,bull plug(ends may be threaded,beveled,plain)
MSS SP79 socket welding reducer inserts
MSS SP97 weldolets,threadolets,sockolets,flangolets,elbolet,sweepolets,saddle,nipolets,brazolets,latrolets,insertolets
Forgings Forgings,Rings,Discs,Disks,Tubesheets,Shaft,Sleeves,Bars,Valves,etc.
Material Carbon steel: S235JRG2 C22.8 P245GH
Alloy stell: 1.5415 16MO3
Stainless steel: 1.4571 1.4301 1.4306 1.4404 1.4435
Standard DIN 2527 2566 2573 2576 2630 2631 2632 2633 2634 2635 2636 2637 86030
Surface Rust-proof oil, Black, Yellow, Galvanized
Type Welding Neck/Plate/Blind/Slip-on/Threaded
Flange facing Raised face , Flat face, Ring Joint face,etc
Size DN10-DN2000
Process Free forging, plate cutting
Pressure DIN:PN6-PN100
Connection Welding
Technical Forged
Package Wooden case,Cartons, Pallets or crates according to buyer's requirements.
Delivery It depend on demand quantity
Certificate TUV, ISO9001
Applications Steam, air, gas and oil pipes or for many other fluids
Lead Time Based on the quantity of order (Usually 20-30 days)
Shipping By sea, By air, By DHL,UPS ,TNT& etc.
Round Bar Type Hot-forging, Hot Rolled, Cold Drawn, Bright Finish and Black Finsh Round Bar
Standard JIS, AISI, ASTM, GB, BS, DIN, EN
Diameter 2-350mm
Length(m) Random length 3-6m or fixed length or as per request.
Delivery condition Hot Forging/ Hot-rolled+Annealing/Normalizing/ Tempering/ Quenching and Tempering/ Solution/ Aging/ Slow Cooling
Tolerance +/-0.2mm
Surface Bright Finish, Black Finish, Grinding Finishe, Roughing Finish.
Certificate ISO9001m, ROHS, MTC or do a test according to clients' requirements.
Nickel Alloy steel Alloy 200/Nickel 200/N02200/2.4066; Alloy 201/Nickel 201/N02201/2.4068; Alloy 400/Monel 400/N04400/NS111/2.4360; Alloy K-500/Monel K-500/N05500/2.4375; ; Alloy 600/Inconel 600/N06600/NS333/2.4816; Alloy 601/Inconel 601/N06601/2.4851; Alloy 625/Inconel 625/N06625/NS336/2.4856; Alloy 718/Inconel 718/N07718/GH169/GH4169/2.4668; Alloy 800/Incoloy 800/N08800/1.4876; Alloy 800H/Incoloy 800H/N08810/1.4876; Alloy 800HT/Incoloy 800HT/N08811/NS112/1.4876; Alloy 825/Incoloy 825/N08825/2.4858; Alloy 925/Incoloy 925/N09925; ; ; ; ; ; Alloy C-276/Hastelloy C-276/N10276/2.4819; Alloy C-4/Hastelloy C-4/N06455/NS335/2.4610; Alloy C-22/Hastelloy C-22/N06022/2.4602; Alloy 2000/Hastelloy C-2000/N06200/2.4675; Alloy B/Hastelloy B/NS321; Alloy B-2/Hastelloy B-2/N10665/NS322/2.4617; Alloy B-3/Hastelloy B-3/N10675/2.4600; Alloy X/HASTELLOY-X/N06002/2.4465; Alloy G-30/HASTELLOY G-30/N06030/2.4603; Alloy C-2000/HASTELLOY C-2000/N06200; Alloy X-750/INCONEL X-750/N07750/GH145/2.4669; Alloy 20/Carpenter 20Cb3/N08020/NS312/2.4660; Alloy 31/N08031/1.4562;Alloy 901/N09901/1.4898; Incoloy25-6Mo/N08925; Inconel 783;Alloy-6XN/N08367;Monel 30C
; Duplex steel ASTM A182 F51/SAF 2205/UNS S31803, F53/SAF 2507/UNS S32750, F55/S32760/F50/S31200, F57/S39277, F59/S32520, F60/S32205, F61/S32250, F904L/N08904/1.4539, F44/254SMO/S31254/1.4574, 17-4PH/S17400/1.4548, 724L, 316Lmod/1.4435, 725LN/310MoLN
Carbon Steel A105, A105N, A694 F42 F52 F60 F65
Alloy Steel A182 F5/F9/F11/F12/F22/F91; A350 LF1/LF2/LF3;
Stainless Steel SS304, 304L,304H, 316, 316L,309S,310S, 321,347H,316Ti
Packing Bundles, Wooden cases, pallets, nylon bags or according to the customers' requirements
MOQ 1pcs
Delivery time 10-100 days depending on quantity
Payment terms T/T, L/C, Western union
Shipment FOB Tianjin/Shanghai, CIF, CFR, etc
Application Petroleum/Power/Chemical/Construction/Gas/Metallurgy/Shipbuilding etc
Remarks Other materials and drawings are available.
Send Message to listing owner