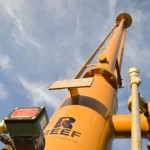 Business Summary
Environmental Compliance Solutions - That's What WE Do… We understand that companies want to stay in compliance - but that budget, time restrictions, and an understanding of exactly what is needed to get or stay in compliance are also major concerns. Our engineers have applied their vast and invaluable experience in the oil and gas industry while searching and developing new methods of vapor control and safe VOC elimination. The result: exclusive flaring devices that revolutionizes the way energy companies are eliminating remote site VOCs while staying in compliance, on schedule and under budget. With REEF's innovative process equipment and exceptional repair and maintenance support services, you can confidently avoid any violations.…So You Can Focus On What YOU Do.
Description of Products / Services
REEF's signature flaring combustion unit – patented by Danny E. Griffin, CEO, has been designed from the ground-up to meet or exceed New Source Performance Standards (NSPS) Subpart OOOO "Quad-O" and other standards of a smokeless operation. Use this comprehensive "two-flares-in-one" (that manages both high-pressure and low-pressure waste gas steams simultaneously) to meet all of your on-site VOC destruction needs – while preserving real estate at your site, remaining in EPA compliance and saving money!
REEF Process Systems also offers a variety of other flaring systems and vapor recovery units, custom-tailored to meet your site's emission control and production needs.
In addition to offering high-end VOC combustion equipment, REEF also offers outstanding support services. From installation to troubleshooting, REEF's team of talented, certified Service Techs located in the greater Permian Basin and Southeast New Mexico areas can provide your team prompt and professional service every time.
Send Message to listing owner