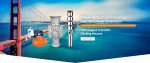 Business Summary
Taizhou Chuangmei Electromechanical Co., Ltd is a famous China Solar Surface Pumps Manufacturers and DC Water Pumps Suppliers, offer Solar Surface DC Water Pumps online.
Description of Products / Services
Zhejiang Chuangmei Electromechanical Co., Ltd. is located in Wenling City on the central coast of Zhejiang. The company is a provincial high-tech enterprise, a high-tech enterprise in the city, and currently produces various types of permanent magnet synchronous motors. There are two types of variable frequency drive permanent magnet synchronous motor and asynchronous start permanent magnet synchronous motor, and the Chinese energy-saving product (like High-frequency Vibrators Manufacturers) certification certificate of permanent magnet synchronous motor has been obtained. The power is from tens of W to 200KW, and the various speeds of the variable frequency drive can be designed and produced. The asynchronous start synchronous motor has 2, 4, 6, and 8 poles.
Address: Tatun Industrial Zone, Daxi Town, Wenling City, Zhejiang Province, China
Phone: 86-576-86356398 / 89955562
Fax: 86-576-86356288
Homepage: www.highspeed-pump.com
Email: cm@chuangmei.com
Send Message to listing owner