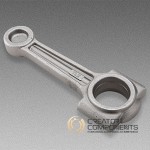 Business Summary
CREATOR COMPONENTS - a trusted Chinese manufacturer of forgings, castings, stampings and all kinds of metal parts. We offer professional forging, casting, stamping, metal parts fabrication services to worldwide customers for a large range of industries.
Description of Products / Services
CREATOR COMPONENTS is a manufacturer and dealer of forgings, die castings, stampings and all kinds of metal parts.
Now our forging shop has 25 friction press lines from 300T-3600T.And we have more than 120 sets of machining equipments and testing equipments including CNC center, digital lathe, grinding machine, milling machine, drilling machine, punching machine, auto welding machine, hardness tester, metalloscope, metallographical cutter, metallographical polisher, tension tester etc.
Our Die-casting shop has Machines as 125T, 250T, 400T series, Plastic Molded Machines as 65G, 120G, 400G series, a series of Punch Machines, Processing Equipment, Polishing Machine, Plastic Spray Assembly Line and Painting Assembly Line.
We can design and produce products according to our customer's samples, requests and drawings.
Send Message to listing owner