Hotel management software is a technology that is essential for businesses in the hotel industry. This type of software helps hotels to manage and streamline various aspects of their operations, such as room reservations, front desk management, and billing. It can also help with inventory management, customer relationship management, and marketing efforts.
Regardless of the size of your hotel, the right hotel management software can provide a number of benefits. For large hotels, it can help to optimize and automate many of the processes involved in running a hotel. This can lead to increased efficiency and cost savings. For smaller hotels, a good hotel management software can help to streamline operations and increase revenue.
To help hotel owners and managers in India find the most suitable software for their business, we have made a list of the top hotel management software options. These software solutions have been carefully selected based on their features, functionality, and customer reviews.
List of hotel management software in India
Ezyhotel's hotel management software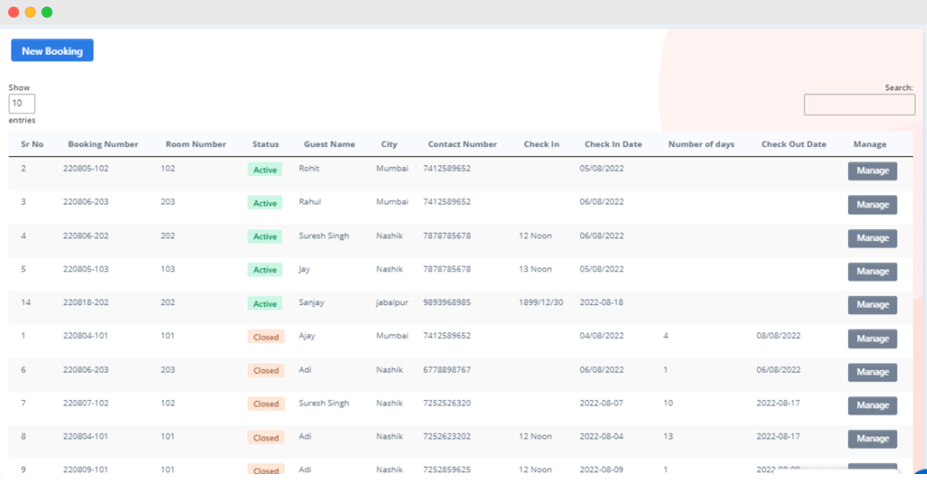 Ezyhotel's hotel management software is a top choice for businesses in the hotel industry in India. Its integration with Google Drive streamlines the check-in/check-out process, room service tracking, payments, and billing, all through a centralized booking dashboard.
The software is highly customizable to meet specific business needs, and customer data is kept secure and only accessible by the hotel, not shared with any third parties.
Additionally, even if the hotel stops using the software, all customer data remains with the hotel. All these features make Ezyhotel the best low-cost hotel management software option available online.
Some key features of Ezyhotel are:
Simple UI – Ezyhotel's software is easy to use and has a simple UI. This makes it easy for your team to adapt to the system.
Easily customized – Creating a user-friendly interface that is customized as per your standards can help your employees adapt to the system easily.
Cloud-based – Software is based on the cloud. Cloud storage providers like google drive provide an extra layer of security in terms of backup.
Mobile Friendly – Software is mobile-friendly and can be accessed from anywhere.
Low Cost – Most of the hotel management software available in the market for small or medium hotels costs anywhere between Rs.2500 or $50 per month to Rs.8000 to $250 per month. This price is relatively high for small businesses. Ezyhotel solves all these issues by cutting the cost of the software by almost 50%. It costs as low as Rs. 900 per month.
After-sales support – Ezyhotel treats all its users equally and provides after-sales support to every user. You just have to send an email explaining your issue and it'll be solved within 24 hrs.
If you are still not sure, you can try a free trial or schedule a demo and then decide if you would like to continue.
Rating: 4.8/5 as per our client
Pricing: starting from as low as Rs. 900 per month
Website: https://ezyhotel.in/
Aatithya HMS
Aatithya hotel management software is a comprehensive solution designed to optimize the performance of hotel businesses. It is a flexible, customizable, reliable, stable, and cost-effective product that can cater to the diverse needs of the hotel ecosystem.
It can be used in various types of hotels, motels, guest houses, commercial centers, resorts, clubs, restaurants, shops and other events.
Rating: 4.5/5 as per Software Suggest
Pricing: Available on request
Website: https://hotel-software.dataman.in/
InnkeyPMS
InnkeyPMS is a hotel management software that utilizes cloud technology to provide a comprehensive solution for managing all aspects of a hotel on a single platform.
The cloud-based system allows for easy access and management from any location and at any time. With its powerful features, InnkeyPMS helps hotels streamline operations, improve customer experience and simplify tasks.
Rating: 3.1/5 as per Google review
Pricing: $3 per room per month
Website: https://www.innkeypms.net/
IManageMyHotel
IManageMyHotel, a reputable hotel management company in India, offers a web-based application that allows for the management of multiple properties from the cloud. It simplifies the daily operations of hotels, resorts, restaurants, and guesthouses.
Centralized reservation and inventory management are among its key features, and it can be accessed via computer, mobile device or tablet.
Rating: 4.6/5 as per Software Suggest
Pricing: Available on request
Website: https://www.imanagemyhotel.com/
SabeeApp
SabeeApp provides tailored solutions for hostels, hotels, and apartment rentals that can be accessed from any location using any internet-enabled device.
Its features include a front desk system, online booking engine, payment gateway, GuestAdvisor tools, and more. The software is customizable to meet the specific needs of the business.
Rating: 4.7/5 as per Capterra
Pricing: €89 per property/month
Website: https://www.sabeeapp.com/
Hoteliga Hotel Management Software
Hoteliga is a hotel management system that runs on the cloud and offers a wide range of tools to automate tasks for hoteliers. These tools include managing reservations, point-of-sale, reporting, housekeeping, online bookings, guest history, and pricing.
The system also includes a booking engine for the hotel's website to boost direct bookings. Additionally, hotel owners can build guest profiles with contact and preference information for more personalized service.
Rating: 4.6/5 as per Software Suggest
Pricing: starting from €25 per property / month
Website: https://www.hoteliga.com/
eZee Absolute – Online Hotel PMS
The EZee absolute system automates the process of verifying credit card information and alerts your team if it is invalid. Additionally, it allows you to sell package deals and run promotions to increase revenue. The hotel management system also includes a chatbot to assist guests with their questions and concerns.
Rating: 4.2/5 as per Software Suggest
Pricing: starting from Rs. 2046 per month
Website: https://www.ezeeabsolute.com/
Conclusion
While there are many hotel management software options available online, it's important to consider which one will best suit your specific business needs.
Some software may have a complicated user interface or may be too expensive for small or medium-sized hotels. Ezyhotel HMS is an easy-to-use option with a user-friendly interface. Data is stored on your Google Drive, and the pricing starts at a low cost of Rs. 900 per month.
You can try Ezyhotel's software with a free 7-day trial or schedule a demo to learn more.