Rooftop solar installation industry has been growing in the recent years, but so is the competition in that industry. That's why we compiled a list of simple ways to get more leads for your rooftop solar installation business.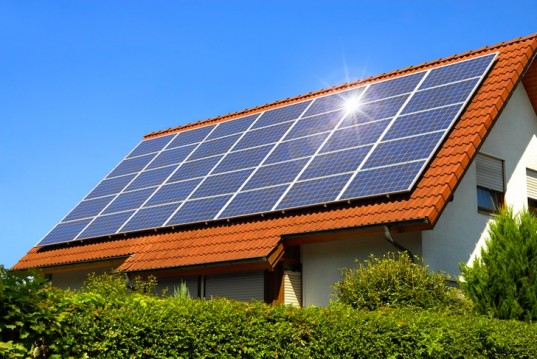 Competition in rooftop solar EPC
With the prospect of climate change and global warming, people are now demanding more sustainable energy solutions. A the same time, solar energy has been getting cheaper, as noted in a survey by World Economic Forum (WEF).
Correspondingly, solar EPC market has been rapidly growing and it has attracted many entrepreneurs, resulting in competition among solar EPC startups as well as established contractors.
So, as a solar entrepreneur what do you do get early leads for your rooftop solar business?
Google My Business (GMB) Listing
Very likely, most of your online leads will find you through Google. But first you need to ensure that people can find you on Google. Listing your business on Google is the absolutely necessary first step for lead generation for your solar EPC business.
Make your business website, address, contact number and other relevant details are easily visible on Google Maps by creating a google my business listing and optimizing it.
Locally targeted Google ads
Most of your prospective customers will be looking for contractors in their area. And very likely they will search for them on Google.
So, you want anyone searching for 'rooftop solar installation' from your city to your website and call you. Therefore it is a good idea to advertise your business on Google, targeting the people in your locality.
Cold email marketing
Cold email marketing is very effective way to get B2B leads. But you need to ensure that your emails are actually reaching the inbox.
Spam filter can see it when you send thousands of emails in a bulk email blast. That increases the chances of your emails getting sent to junk / spam folders. Cold email automation tools help you get around this limitation by mimicking 'human-like sending behavior'.
Social Media Marketing
Social media platforms can help you in a big way to build a locally recognized brand.
Even today, many people don't realize how cost effective it is to do rooftop solar installation. Using these social media platforms to increase awareness about renewable energy and how cost effective it is, will ultimately lead to a robust pipeline of customers.
Facebook, LinkedIn, Instagram, twitter are excellent places to showcase your most recent projects. Tag your customers so that they can also brag about going green 
Videos
If a picture is worth a thousand words, then a video should say about a million words. So you should never miss out on this powerful channel to promote your business.
Interview your happy customers about the benefits they have received. Create 2-3-minute long videos on your company's Youtube channel.
Nothing compels people like success stories. So video is an effective channel where your customers can become your biggest advocates.
Blogs & SEO
Write more blog posts about your business, about how it is benefiting the residents and businesses in your locality. Good quality blog posts, will give you the benefit of Search Engine Optimization or SEO.
SEO channel takes some time investment and requires patience before you can see significant results. But once you start getting organic traffic, it is essentially free! So in the long term, this turns out to be the most cost effective lead generation channel.
Business Directories
Get listed in the online yellow pages and local business directories to promote your solar EPC business. Not only thse listings send you some genuine direct leads, but they also help you to perform better in local Google searches.
Having a profile on online listing platforms with images, contact details, website etc. is a must for any local business.
Sales tracking automation
There is always a cost associated with lead generation. Even the seemingly organic leads for your business will come at an indirect cost. Therefor it is always advised to make the most of the leads data that you get.
Using an automated sales tracking system for solar epc, will make your sales process more efficient. Real time alerts about leads and sales progress will ensure that none of the opportunities get lost in chaos.
Tracking and managing leads for solar projects
Leads for solar projects take time, efforts and costs. So each lead is valuable and should be managed accordingly.
But most solar businesses focus a lot on the lead generation part and not so much on the lead management. They track all solar project leads in simple excel sheets. Customer documentation, site photos etc. are scattered over different folders. Communication is all over the place in - emails, calls, WhatsApp messages.
Without any central platform to bind all these pieces together, most solar installers don't have good visibility of where their business is headed.
Does all that sound familiar?
But this lead management problem can be easily solved by centralizing your sales process with a CRM software for solar projects. A CRM solution that is customized for solar sales process would be a better suited alternative for solar project lead management.
Solar CRM offers highly customized workflows suitable for a solar business. It provides you a mobile friendly solar site survey app and a customizable workflow to automate solar project proposals. It also connects with Solar CRM's project management platform, providing a one stop solution for managing your solar installation business.