Cold emailing can be a great way to reach out to potential customers and grow your business. However, it can also be time-consuming and tedious to do manually.
That's where cold email automation tools come in. These tools can help you automate the process of sending cold emails, making it more efficient and effective. In this blog post, we will take a look at 10 of the best cold email automation tools on the market, including their pros, cons, and pricing.
We'll also provide some tips on how to choose the right tool for your needs and make the most of your cold emailing efforts. Whether you're a small business owner, marketer, or salesperson, this guide will help you find the perfect solution for your cold emailing needs.
Features to look for before buying cold email automation tools
Personalization: The ability to personalize your emails with the recipient's name, company, and other relevant information can help increase the chances of your email being opened and read.
Email Tracking: The ability to track the status of your emails, such as whether they have been opened or clicked, can give you valuable insights into the effectiveness of your campaigns.
Email Templates: A library of pre-written email templates can save you time and ensure that your emails are well-written and professional.
A/B Testing: The ability to test different subject lines, email content, and other elements of your emails can help you optimize your campaigns and improve results.
Email deliverability: The tool should have a good reputation for email deliverability. It should be able to handle large volumes of emails without any difficulty.
Support and training: Make sure the tool has good support options, such as documentation and tutorials, and training options to help you get the most out of the tool.
List of top 10 cold email automation tools
SafeMailer
SafeMailer is a cost-effective solution for cold email marketing, it's a free cold email automation software that helps businesses connect with new customers and grow their customer base. The app is packed with a variety of features that make it a top pick in the cold emailing market.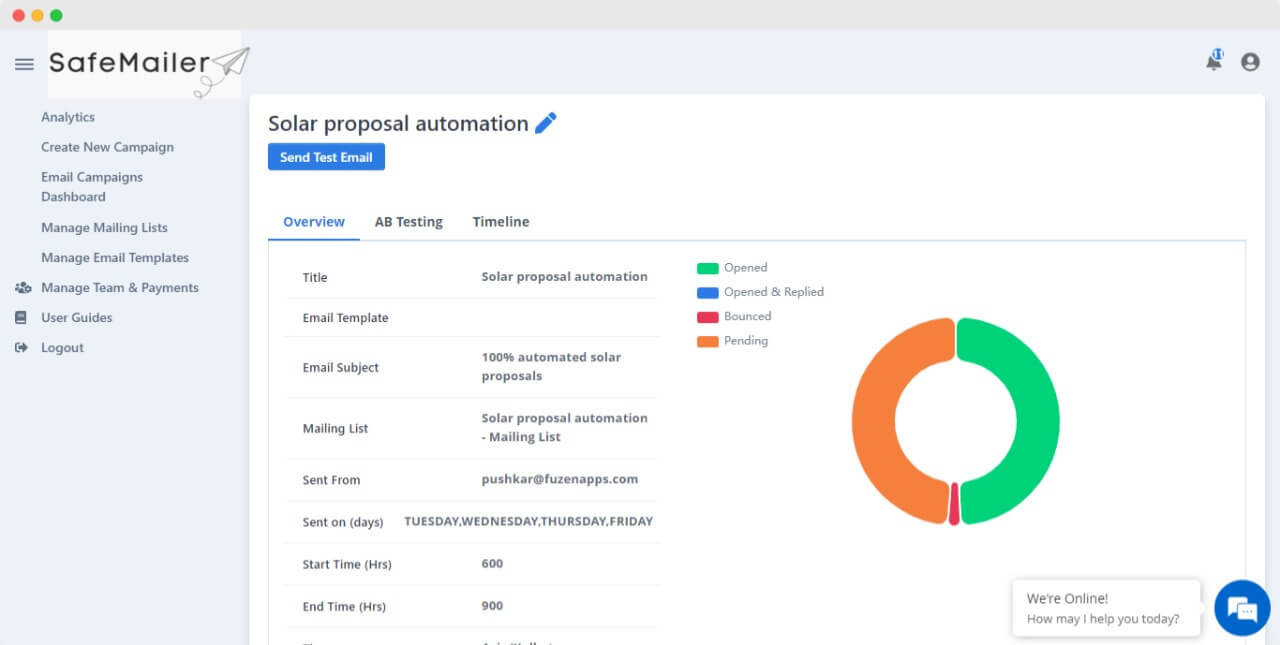 Features of SafeMailer
Advanced email tracking: With the app, you can easily track email opens and clicks, as well as view recipient engagement data. This is crucial for understanding the effectiveness of your cold email campaigns.
Effective personalization: You can easily personalize your emails with recipient data and dynamic content, such as their name or company, to make your emails more relevant.
A/B Testing: SafeMailer allows you to test different subject lines and email content to optimize your email campaigns for best results.
Scheduled Campaigns: You can easily schedule and run your cold email campaigns in advance, even in different time zones.
Avoiding Spam Filters: The app helps you avoid spam filters by avoiding bulk email sending and humanizing your emails to maximize email deliverability.
In-depth analytics: SafeMailer provides detailed analytics on your email campaigns, helping you monitor what's working and what's not, allowing you to continuously improve your email campaigns.
Pre-built templates: The app has a pre-built email template library which includes 100s of different emails for different topics. You can use the same template or edit it as per your requirement using the simple html editor.
Cons of SafeMailer
SafeMailer may not have some of the more advanced features offered by other email automation tools, such as an AI-generated email feature or email verification service.
It currently only supports Gmail or Google Workspace accounts.
If you're unsure if SafeMailer is the right choice for you, you can sign up for a free account or schedule a live demo to see if it meets your needs.
Rating: 4.8/5 as per customer survey
Pricing: Forever free plan or Paid plan starting from as low as $15
Website: https://safemailer.app/
Woodpecker
Woodpecker.co is a software designed to automate email communication and follow-up processes for businesses. It comes with personalized email templates, automatic follow-up reminders, and real-time analytics to help track the success of your campaigns.
Pros of Woodpecker
Automating email sequences
Integration with other tools like Salesforce, Pipedrive etc
Personalizing emails
Setting automatic follow-up reminders
Scheduling cold email campaigns
Cons of Woodpecker
Free trial with limitations
More costly compared to other options
Unable to send email attachments
Rating: 4.4/5 as per G2
Pricing: Paid plan starting from $49
Website: https://woodpecker.co/
Yesware
Yesware is a productivity tool for sales teams that helps them to track email opens and clicks, schedule meetings, and access real-time analytics to enhance their sales process. It is compatible with popular email platforms like Outlook and Gmail and can be used on both desktop and mobile devices.
It allows sales reps to monitor their communication with leads and customers and also improves their productivity.
Pros of Yesware
Yesware is available on mobile devices
Integrates with popular CRM platforms like Salesforce
Includes calendar integration feature
Includes pre-written email templates
Cons of Yesware
Could be costly for small or startup companies.
Some users might find the interface and features of Yesware to be too complex.
Concerns about Yesware monitoring email activity might arise.
Rating: 4.3/5 as per Capterra
Pricing: Premium plan starting from $35 seat/month
Website: https://www.yesware.com/
Lemlist
Lemlist is an email automation tool that assists sales teams and marketers to personalize and automate their email campaigns. The tool enables users to create personalized images and videos in their emails, track email opens and clicks, and set up automated follow-up sequences.
Lemlist also offers analytics and reporting to help users improve their email campaigns. This software is particularly useful for salespeople and marketers who want to raise their email open rates and make their emails more appealing.
Pros of Lemlist
Lemlist enables users to include personalized images and videos with ease.
Users have the option to set up automated follow-up sequences.
Easy to use and navigate.
Offers detailed analytics and reporting.
Cons of Lemlist
No free plan offered.
Setting up drip email can be tricky at times.
Managing different email campaigns requires switching between multiple tabs.
Rating: 4.4/5 as per G2
Pricing: Basic plan starting from $59 user/month
Website: https://www.lemlist.com/
SalesHandy
SalesHandy is a sales engagement platform that helps businesses boost productivity and efficiency in their sales process. It comes with features like email tracking, scheduling, templates and team collaboration, to aid sales teams to communicate more efficiently with prospects and customers.
SalesHandy also provides analytics and reporting tools to assist teams in tracking their progress and enhancing performance over time.
Pros of SalesHandy
Monitor the performance of your emails by tracking when they are opened, clicked on, and replied to.
Create customized emails and send them to multiple recipients simultaneously.
Validate email addresses with the built-in verification tool before sending out any emails.
Utilize pre-written templates for various sales scenarios, including follow-up and introductory emails.
Cons of SalesHandy
Verifying email lists incurs an additional cost.
It is a subscription-based service, which may not be affordable for certain businesses.
The mail merge function has some limitations.
Although SalesHandy allows for some level of customization, it may not meet the needs of businesses with more specific requirements.
Rating: 4.4/5 as per G2
Pricing: Basic outreach plan starting from $27/month
Website: https://www.saleshandy.com/
GMass
GMass is an email automation software that enables users to send bulk emails, customize them, and schedule them from their Gmail account. It also offers features such as email tracking, campaign analysis, and list management.
GMass is ideal for small and medium-sized businesses, marketers, and salespeople who need to send a high volume of personalized emails and monitor their performance. It is a cost-efficient tool that seamlessly integrates with Gmail, making it user-friendly and manageable.
Pros of GMass
GMass is designed to be intuitive and easy to use, with a seamless integration with Gmail.
Personalize your emails using merge tags with GMass.
GMass enables you to manage, create and divide email lists.
It is a budget-friendly option that is well-suited for small and medium-sized businesses.
Cons of GMass
GMass is primarily intended to work exclusively with Gmail.
It has basic automation features but may not be as comprehensive as other email marketing software.
It is a browser extension, which may not be compatible with all types of computers.
Rating: 4.7/5 as per G2
Pricing: Basic plan starting from $20/month
Website: https://www.gmass.co/
MailRush
MailRush.io is an email automation software that enables users to send bulk emails, customize them, and monitor their performance. It includes features such as list management, email templates, and analytics.
MailRush.io has a straightforward and user-friendly interface that makes it easy to use and manage, even for those with limited technical experience. It's a cloud-based service that can be accessed remotely and it can be integrated with various CRM, e-commerce and other platforms.
Pros of MailRush
Automate your email campaigns with features like autoresponders, drip campaigns, and trigger-based emails.
24/7 live chat support is available.
The built-in drag-and-drop email template builder is user-friendly and easy to use.
Cons of MailRush
Customer support is only available through email.
There is no free plan available.
Additional fees may apply for email warming, email validation and LinkedIn prospecting beyond a certain limit.
Rating: 4.2/5 as per G2
Pricing: Basic plan starting from $19/month
Website: https://mailrush.io/
Mailshake
Mailshake is an email automation and outreach software that assists businesses and individuals in optimizing their sales and marketing strategies. It enables users to send bulk emails, customize them, and plan them, as well as monitor performance and engagement. It also includes features such as list management, email templates, and analytics
Pros of Mailshake
An AI-powered tool that helps you efficiently compose your cold email templates.
Integration with Zapier enables connection to most other sales and CRM tools.
Customize your emails using merge tags.
Cons of Mailshake
A limit on the number of emails that can be sent per day.
There have been user complaints on Capterra that some emails are marked as spam during bulk email marketing.
The cost of the tool is higher than other options available in the market.
Rating: 4.7/5 as per G2
Pricing: Basic plan starting from $58 user/month
Website: https://mailshake.com/
Overloop
Overloop is a sales automation and email tracking software for sales and business development professionals. It enables users to send bulk emails, customize them, and plan them, as well as monitor performance and engagement. It also includes features such as list management, email templates, and analytics.
Overloop is created to assist salespeople and business development professionals in optimizing their sales process, boosting productivity and efficiency, and enhancing their revenue.
Pros of Overloop
Compatible with both Gmail and Outlook.
The chrome extension allows for prospecting on LinkedIn.
Offers comprehensive analytics for email campaigns.
Cons of Overloop
Creating drip emails can be challenging.
The pricing is higher than other cold email tools in the market.
Unused emails cannot be carried over to the next month.
Rating: 4.3/5 as per G2
Pricing: Single plan that costs $99 user/month
Website: https://overloop.com/
Snov.io
Snov.io is an email outreach and lead generation tool that assists businesses in discovering and validating email addresses, as well as automating their email campaigns. It includes a Chrome extension that enables finding email addresses on different websites, an in-built email verifier, and the capability to compose and send personalized emails.
Additionally, the software offers analytics and tracking features, enabling you to assess the performance of your campaigns and make necessary adjustments.
Pros of Snov.io
Helps businesses find and verify email addresses.
Easy to use UI to schedule your email campaigns.
Provides detailed email analytics to track your email campaign performance.
Cons of Snov.io
There may be deliverability issues depending on the quality of the email list, subject, and email content.
Some users have reported problems during drip email campaigns.
The basic plan only allows for sending 1000 emails per month which is significantly less than other cold email marketing software.
Rating: 4.3/5 as per G2
Pricing: Starter plan that costs $30 user/month
Website: https://snov.io/
Conclusion
There are various cold email marketing tools available online, but not all of them may be ideal for your specific cold email campaign needs. Some may have a complicated user interface, while others may be too costly for small or medium-sized businesses.
SafeMailer could be a suitable option for your cold email automation requirements. Its user-friendly interface makes it easy to use. Additionally, all data is stored on your Google Drive. Unlike other costly software, SafeMailer App offers a forever-free plan, and paid plans begin at a low cost of $19 per month.
Discover more about SafeMailer App with a 7-day free trial or schedule a live demo.