Pump Reliability Coefficient - Definition
The symbol for reliability coefficient is letter 'r'. A pump reliability coefficient value of 0.00 means absence of reliability where as reliability coefficient value of 1.00 means perfect reliability. An acceptable reliability coefficient must not be less than 0.90, as less than this value indicates inadequate reliability of pumps.
Centrifugal pumps reliability coefficient
Many things can influence the pump operation and pump reliability. Poor initial installation may cause premature failure due to misalignment, excessive piping strain, improper lubrication, etc.
It is relatively easy and inexpensive to eliminate one major source of pump failure by installing it right the first time. An ounce of prevention is worth a pound of cure.
Operators now have increased awareness of reliability coefficient for pumps due to concern for environmental reasons. Operators have little tolerance for the bypassing of sewage equipment because of power outages, equipment failure, insufficient pumping capacity, or any other reason.
Reliability coefficient is of extreme importance and the design of pumping facilities should be premised on providing continuous service.
Where electric motors are used, two incoming power lines from separate sources with automatic switching from the preferred source to the stand by source are the minimum requirement for reliability.
Standby engine-driven pumps, engine-driven right-angle gear drives or standby engine-driven generators should be provided where dual electric service cannot be obtained or where the degree of reliability provided by two feeds is not considered adequate.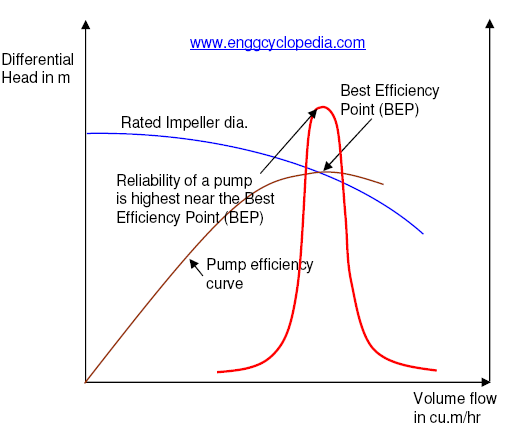 Necessary spare parts for better pump reliability
It is imperative for service pump reliability coefficient to have a sufficient stock of readily available spare parts. It is suggested that the following spare parts be stocked for any regular centrifugal pump, where applicable:
•Bearing locknut
•Bearing lock washer
•Cartridge mechanical seal
•Casing gasket.
•Casing wear ring.
•Finned-tube cooling assembly.
•Frame and seal-chamber cover gasket.
•Impeller nut.
•Impeller wear ring - casing side.
•Impeller wear ring - cover side.
•Oil rings.
•Oiler with wire guard.
•Radial bearing.
•Radial bearing end-cover gasket.
•Seal-chamber cover wear ring.
•Set screws.
•Throat bushing - seal-chamber cover.
•Thrust bearing (duplex pair).
•Thrust bearing end-cover gaskets
•Thrust bearing end-cover O-ring
•Thrust bearing end-cover shim pack.
•Water jacket covers O-rings.
It is very important to read and understand the provided user manual for any equipment before starting up to be aware by all maintenance requirements and try to purchase all necessary spare parts based on experience and also to purchase required lubricating oil to avoid danger, to reduce repair costs and downtime and to increase the reliability coefficient and life of the machine.
Checklist to ensure high reliability coefficient for pumps
Ensure that accurate alignment is made to pump and prim over.
Ensure proper balance of the rotor assembly.
Install machine on a properly designed foundation.
Start up the pump with the assistance of a complete Start-up Checklist, being sure to carefully accomplish each step along the way.
Operate the pump as close to the Best Efficiency Point.
During overhauls/repairs, assemble the pump in a clean room, using tools that have near surgical cleanliness and never make assembly in field.
Perform predictive checks (vibration and temperature monitor) on a regular basis.
Adjust seal and maintain flush liquid and quench rates at optimum rates.
Use non-lubed couplings where possible.
Use the proper lubricants in the proper amounts.
Remove water-cooling from bearings where possible.
Filter lubricants through 5-micron elements or smaller when re-filling wet sump operations.
Use dry sump or pure oil mist lubrication.