Centrifugal Compressor Systems - Structure, design and operation of centrifugal compressors, Theory and equations for centrifugal compressors, P&ID-PFD typicals, Start-up and maintenance procedures for centrifugal compressors etc.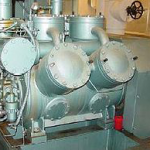 Reciprocating Compressor Systems - Reciprocating compressors use crankshaft-driven pistons to compress gases used in various processes. They fall into the category of positive-displacement compressors. Positive displacement compressors deal with a specific quantity of air or gas is contained in a compression chamber and its volume is mechanically reduced, thus increasing its pressure.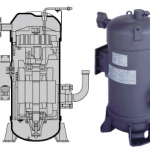 Scroll Compressor Systems - Scroll compressors are fully hermetic (enclosed in the compressor's shell, which is usually a cylindrical welded steel shell). Scroll compressors are commonly used in HVAC systems. Majority of scroll compressors used in refrigeration and HVAC services are of vertical orientation, with the scroll sets typically installed on the upper part of the motor shaft.
Types of compressor systems - Classification of compressors such as dynamic compressors and positive displacement compressors is discusses along with sub classes of compressors and differences between each type compressors.